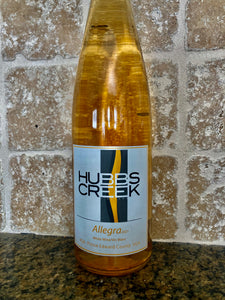 Our Newest Allegra is lovely summer sipper with an interesting copper hue due to a 24-hour skin contact prior to fermentation.  It is lovely blend of Pinot Gris and Chardonnay with interesting hints of baked apple pie!
It can be served on its own or with light fair foods such as delicate meats, cheeses, and seafood. Serve chilled and be warned it may bring you Joy!
Orders placed by Friday evening will ship out the following Monday. Free shipping for orders over $200.
Pickup is available at the winery every Saturday from 11am-4pm. Orders placed on Saturdays may not be available until the following week, please call ahead to confirm.